If I could sum up the majority of my eats in Southern California, it would be....tacos. Fish tacos, chicken tacos, chicken and mole tacos, even mini Wagyu beef and tuna tartare tacos. And I enjoyed each and every one of them. But tacos do not always have to come with fish, chicken, or meat to make them delicious. Nor do they have to be stuffed with just beans and rice to make a passable vegetarian option. I have stuffed these corn tortillas with slices of slightly sweet roasted butternut squash, a creamy schmear of black beans, quick pickled red onions, plump avocado, and drizzled it all with a bright, spiced sauce reminiscent of chimichurri.
I hope no one is offended with me taking a little culinary and poetic license and calling this a chimichurri. It may seem like a far cry from the herby green steak condiment of Latin America, but believe me when I say it packs a similar punch. Traditional chimichurri is practically a vinaigrette with a base of oil and vinegar and lots of garlic and herbs like oregano, parsley, and sometimes even cilantro. I borrow from that concept, swapping smoked paprika for parsley and being generous with the cilantro. I happen to love the combination of smoked paprika and butternut squash, and think this works quite well in these little tacos. I think you may even find other uses for this addicting sauce. Let me know what you end up pouring it on.
The pickled onions that I include here are easy to make and will add new dimensions to many of your favorite dishes. Toss them on sandwiches, chop them and add them to your grainy salads, or garnish a burger or sausage with them.
These tacos are vegetarian as written, but can easily be made vegan by substituting a plain vegan yogurt for the sour cream. If you just must have meat, any simply grilled meat could work, and be generous with the chimichurri. I'm also wishing I would have had some queso fresco slices to add in there to really up the ante.
Served alongside thinly sliced cabbage tossed with salt, olive oil, and a hint of lime juice, these tacos will change your idea of what vegetarian tacos have to be.
Butternut Squash and Black Bean Tacos with Pickled Onions and Pimentón Chimichurri
Tacos:
1/3 medium butternut squash, peeled and seeded and sliced in 1/4 inch slices
2 t. olive oil
1 14.5-ounce can of black beans, drained and rinsed
1 T. sour cream
1 lime, zested and juiced
1/2 t. ground cumin
scant 1/2 t. salt
1 ripe avocado, peeled, pitted, and sliced into 1/4-inch slices
Handful fresh cilantro, rinsed to remove any sand and dried, and leaves separated
1 recipe Quick Pickled Red Onions, recipe below
1 recipe Pimentón Chimichurri, recipe below
8 of your favorite corn tortillas
Roast the squash. Preheat the oven to 400 degrees Fahrenheit. Line a baking sheet with a Silpat or parchment paper. Toss the butternut squash with 2 teaspoons of olive oil and a sprinkling of salt and arrange slices in single layer on baking sheet. Roast for about 25-30 minutes or until tender and a little brown around the edges. Remove from oven and set aside.
In the meantime, prepare the black beans. Place the drained and rinsed black beans in a bowl. Add the sour cream, zest and juice of 1 lime, the ground cumin, and salt. Mash the beans with a fork to your liking. I like mine a little chunky, but you can mash them to a smoother puree if you like.
Get all of your ingredients ready. Warm and soften the tortillas by wrapping them in a moist paper towel and microwaving them for 20-30 seconds. Begin assembling the tacos. Smear the black bean mixture on the tortilla, top with a few slices of butternut squash, then avocado, the pickled onion, drizzle with chimichurri, a few cilantro leaves, and drizzle with more chimichurri if desired. Enjoy! Serves 3-4 people.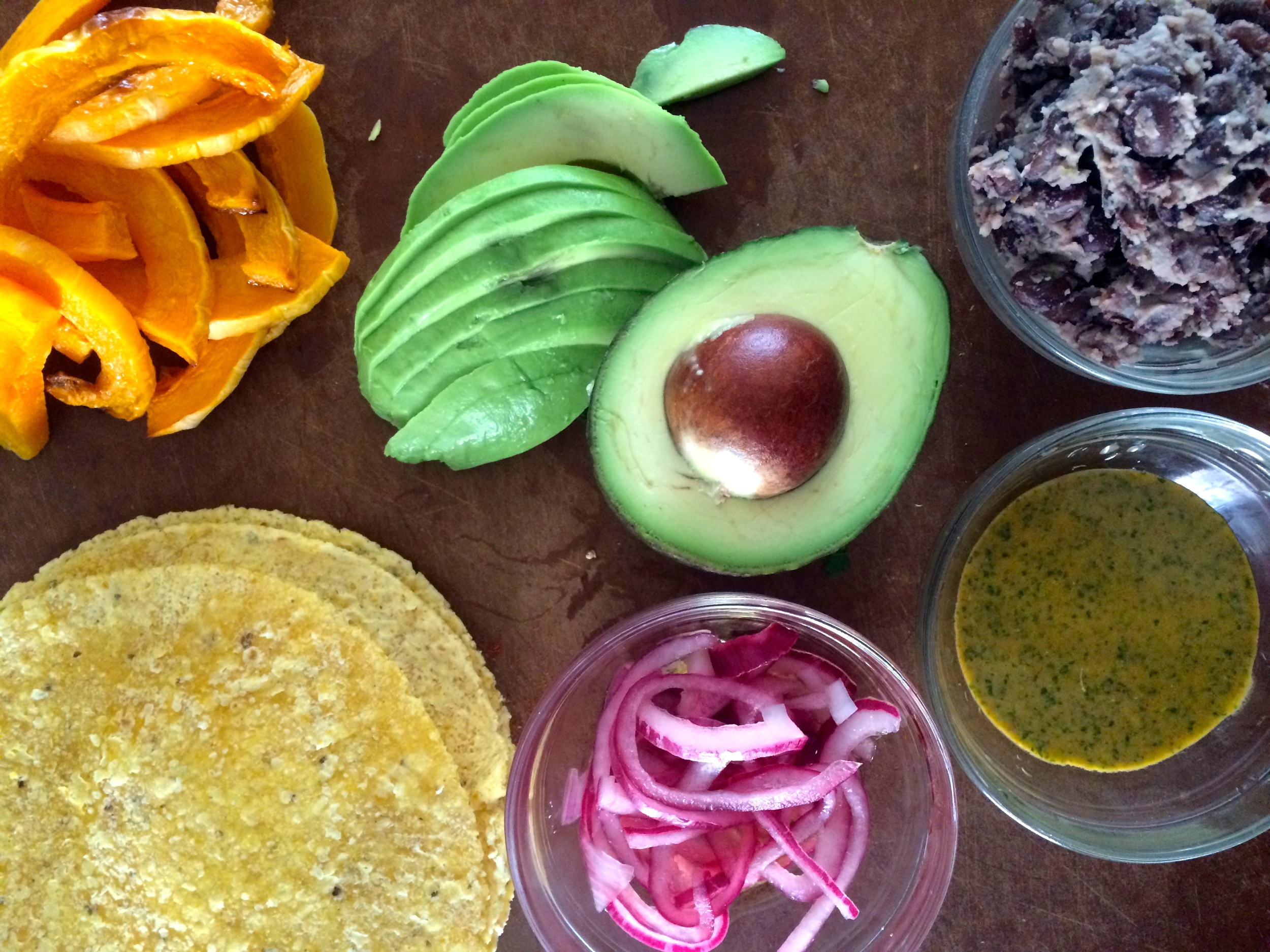 Quick Pickled Onions
1 red onion, peeled and sliced thinly
1/2 c. apple cider vinegar
1/2 c. water, microwaved for about a minute
1 T. honey
1 1/2 t. salt
Combine all of the ingredients in a bowl, stirring to coat evenly. Allow the onions to pickle and slightly wilt for at least 20 minutes, stirring occasionally. This makes a lot more than you need for these tacos, but these onions should last about a week in the fridge so you can find some new uses for them.
Pimentón Chimichurri
3 garlic cloves
1 c. loosely packed cilantro, washed and dried to remove any sand (some stems are fine!)
1 1/2 t. smoked paprika
1 1/2 t. dried oregano
1/4 t. red chili flakes
1/2 t. salt
3 T apple cider vinegar
3 T. extra-virgin olive oil
Combine all ingredients in a mini food processor or blender and blend until smooth, scraping down the sides as needed. Makes about 1/2 cup.